ERP software from quotes to e-invoicing for Mac and Windows
Discover 1996soft our business management solution
1996soft manages your company from your customers relationships, from quotation to electronic invoicing, and up to after-sales service management in a single software
1996soft is a powerful ERP software designed for all types of businesses, from small to medium-sized businesses, which will cover all your sales activities whether it's BtoB, BtoC or BtoG
1996soft is designed to be compatible with any business activities
Download trial for Windows It's FREE
Download trial for macOS It's FREE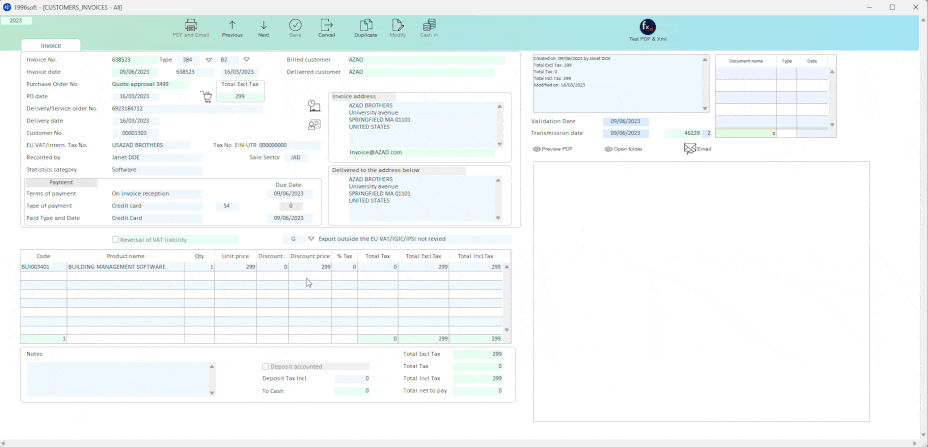 Download trial for Windows It's FREE
Download trial for macOS It's FREE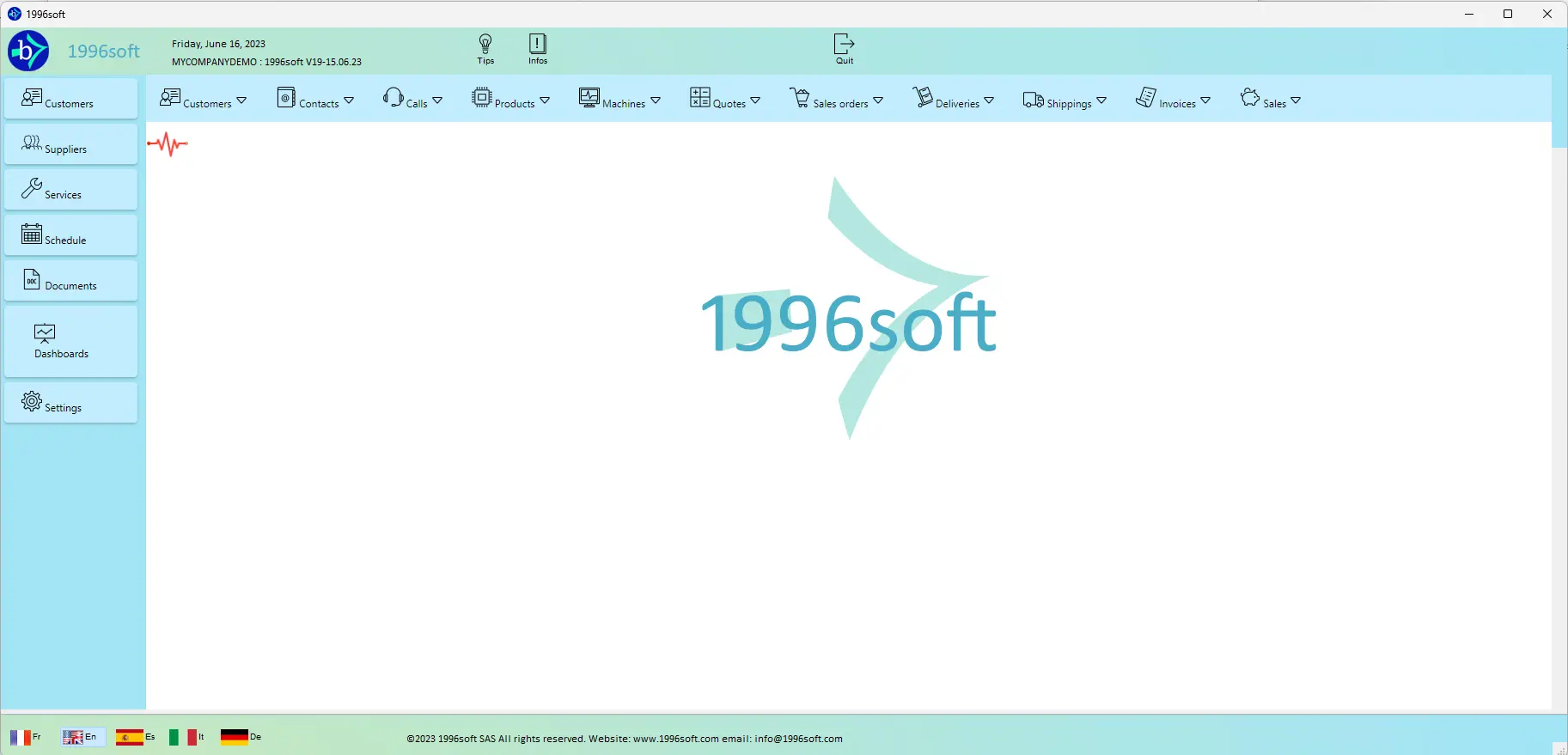 Want to see more: Try it for free!
Sales results Suppliers results Services Results Customers dashboard Factur-X Main screen
Why choose our ERP software?
Centralize and optimize all your operational processes in a clear, simple and intuitive way.
Give added value to time-consuming administrative tasks and free yourself from the limits of 100% cloud multi-modules.
Intuitive, easy to implement and use, our solution will seduce you with its immediate operability and low investment cost.
100% Certified E-Invoicing with Factur-X , XRechnung with ZUGFeRD format, FatturaPA and FacturaE
1996soft will turn all your invoices into electronic invoices with It's PDF/A-3 format combining PDF and xml (only for EU countries)
100% Real time results of your company's activities in a single click
With only one software to center all your activities you can retrieve all key informations on your day to day progress and make real time decisions for your company
With a 360 degree view of all your data, quickly navigate from a customer to their invoices, quotes, orders, service orders and products
100% Increase in your productivity
Automate and Consolidate all your processes in a single application
From customer calls to electronic invoicing, from after-sales service to inventory management, Put an end to scattered informations on word processing documents, spreadsheets or multi-modules on line
100% Improvement in your customer relationship
Follow your communications in real time
Improve your responsiveness by quickly sending your quotes and responding quickly to your after-sales service requests
&nbsp
100% International
Change the language of the application at any time and send a copy of your invoice or you quote in the language of your customer or send your purchase order in the language of your supplier!
100% All inclusive
Customer management software
✓ Follow Prospects and customers
✓ Follow customers calls and histories
✓ Multi contacts, Multi Paying agencies
✓ Follow Quotes, Deliveries, Shippings, Invoices, Deposit Invoices, Credit notes
✓ Duplicate Quotes and Invoices
✓ Send all documents by email in PDF
✓ Cash in and dunning notices by email on late payments
Suppliers Purchases Software
✓ Follow your suppliers and your purchases
✓ Ready to go international
✓ Follow POS and deliveries
✓ Send your POs by email in PDF
✓ Follow Invoices and payment
✓ Payment notices to your supplier
After-Sales service Software
✓ Follow your customers Assets, history, services contracts and Work orders
✓ Follow your Assets
✓ Work orders of all types
✓ Automatic Preventive Maintenance Schedule
✓ MTBF, MTBM, MTTR
✓ Maintenance contracts
✓ Stock and Warehouses stocks
✓ Stock transfers
Miscellaneous
✓ Staff schedule
✓ Automatic integration of Customers Calls, PMs, WOs, to the schedule
✓ Add any external document to your database
✓ Data export to csv
✓ Data import from csv
✓ Free training on our Youtube channel
100% Time saved
Better than a long speech, download our free trial version and try immediately without waiting for an appointment, or a complex and time-consuming demonstration.
No commitment. No need to register your email!
Oops! It's only 475 € for a LIFETIME license!*
1996soft Standalone Software Licence*
Minimum Windows 10, 11
Minimum macOS Ventura 13.0.1

475 €

( French Vat 20% included)

395.83 € ( Vat excluded)

3D-Secure billing process

*All upgrades included for One unique computer

Download trial for Windows It's FREE Download trial for macOS It's FREE

No registration required

Technical specifications

Minimum Windows 10, 11

Minimum macOS Ventura 13.0.1

Minimum Ram 8 GB

Full HD or QHD

Screen min 1920x1080